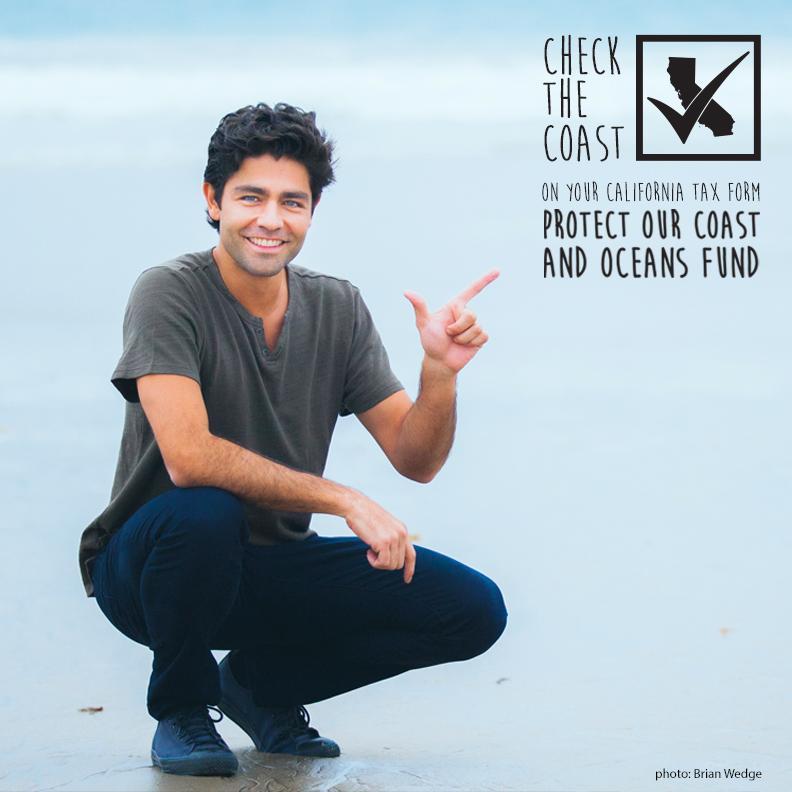 March 19, 2015 [San Francisco] – While we wait to see Adrian Grenier in the highly anticipated Entourage film, the actor will become a familiar face to Californians leading up to tax day.
Grenier and Ocean Conservationist/Surfer Sunshine in the Fog star in a new awareness effort encouraging people to #CheckTheCoast while filling out their state tax returns.
The California Coastal Commission is making it easy for Californians who want to protect and restore the beaches by "Checking the Coast."
California taxpayers (or Californians) can donate to the Protect Our Coast and Oceans Fund on the second to last page of their State personal income tax form under "Voluntary Contributions."
In order to raise awareness of the check-off box and motivate people to make a donation, the California Coastal Commission enlisted the support of gyro San Francisco to develop the #CheckTheCoast campaign.
The campaign includes outdoor, print, radio and a big #CheckTheCoast social media push. It will run throughout California until the end of tax season.
All donations will directly benefit California communities in the form of grants for cleaning up shorelines, restoring natural habitats and promoting beach access. It will also help give children the opportunity to go on school field trips and experience the coast for themselves, some for the very first time.
"Our California coastline is a national treasure. We are making it easy for taxpayers to help protect and restore this treasure by 'Checking the Coast," said Chris Parry, Education Manager of the California Coastal Commission. "We are grateful that Adrian, Sunshine in the Fog and gyro San Francisco are as passionate about our coasts as we are. We know #ChecktheCoast will have a huge impact today and for future generations."
"Our coastlines are captivating, inspiring and precious. Checking the Coast is a simple way for people to keep them that way," said gyro San Francisco Executive Creative Director Steffan Postaer. "gyro San Francisco is proud to play a part, no matter how small, in conserving and enhancing them."
###
About California Coastal Commission
The California Coastal Commission is committed to protecting and enhancing California's coast and ocean for present and future generations. It does so through careful planning and regulation of environmentally-sustainable development, rigorous use of science, strong public participation, education, and effective intergovernmental coordination. The Public Education Department administers the Whale Tail Grants Program and organizes Coastal Cleanup Day, which helps to raise public awareness of marine and coastal resources and promote coastal stewardship. www.checkthecoast.org
About gyro
As a global ideas shop, our mission is to create ideas that are humanly relevant. gyro is the 2014 BMA Global B2B Agency of the Year and an Advertising Age Top 50 agency. gyro also serves as Global Marketing Advisor to Fortune. Our 600 creative minds in 14 offices work with top companies including BlackBerry, Cars.com, DuPont, eBay, FedEx, HP, John Deere, SAP, Tate & Lyle, TD Ameritrade, Time Inc. and USG. www.gyro.com